15 Marketing Tasks Your New Virtual Assistant Can Do To Drive Traffic To Your Business for 2019
Are you to the point in your business that you just realized you can't do it all by yourself in order for you to achieve the goals you originally set out for yourself, so you're NOT working harder but working smarter?
While you're on the hunt looking to hire a virtual assistant the best thing to do is make a list of all the things that you don't know how to do, and that's what you're looking when on-boarding virtual assistant.
1. ADMIN TASKS
Short of being able to fetch your coffee for you, having a Virtual Assistant (VA) is almost exactly the same as having an in-office administrative assistant. A VA can take care of any admin tasks that are nothing but a nuisance to a busy business owner. Whether it's scheduling your meetings, booking travel arrangements, maintaining your spreadsheets, or following up with clients, a Virtual Assistant can make your life easier.

2. BLOGGING
Want to get your message across, but the written word is not your forte? Having a professional, seasoned copywriter Virtual Assistant in your arsenal can help ensure that your website and landing pages are always updated with original content. Knowledge of SEO, keywords, and Google ranking is essential in blogging, and virtual assistants have the expertise to incorporate this know-how into their writing.
3. SOCIAL MEDIA
Social media management can be complete drudgery for many business owners, who simply lack the time or desire to "play the game". In today's online world, engaging your audience is absolutely essential, and a virtual assistant can manage your accounts for you so you can keep your eyes on the prize. Virtual Assistants have the time and skills to grow your audience and keep them coming back for more.
4. SEO
SEO, or "search engine optimization" is paramount in helping your ideal clients find you online. A virtual assistant knows how to research and incorporate relevant keywords and phrases within your copy and content to attract prospects to your website and to rank your website with Google, giving you a leg up on your competition, and potentially increasing your conversion rate as a result.
5. CONTENT MARKETING
Having great content is a good start, but unless it's strategically promoted, your target audience may struggle to find it. A Virtual Assistant will work hard creating copy to market the content for you while you're busy building your empire.
6. EMAIL MARKETING
A Virtual Assistant can write and design stellar emails to send to your clients as often as you'd like. Virtual Assistants always include a relevant call-to-action to drive traffic to your business and help convert your copy into sales. Email marketing is also great for affiliate marketing.
7. GRAPHIC DESIGN
Virtual Assistants are skilled in graphic design and experts in keeping things consistent with your branding. Whether you're in need of email, infographic, custom web page design, logo, photo, promotional, Facebook covers or social media design, a VA can help.
8. WEBSITE DESIGN
Websites are where potential clients go to learn all about your business and consider patronizing you. A Virtual Assistant can build a user-friendly, dynamic, comprehensive, beautiful website for you to showcase what you have to offer the world.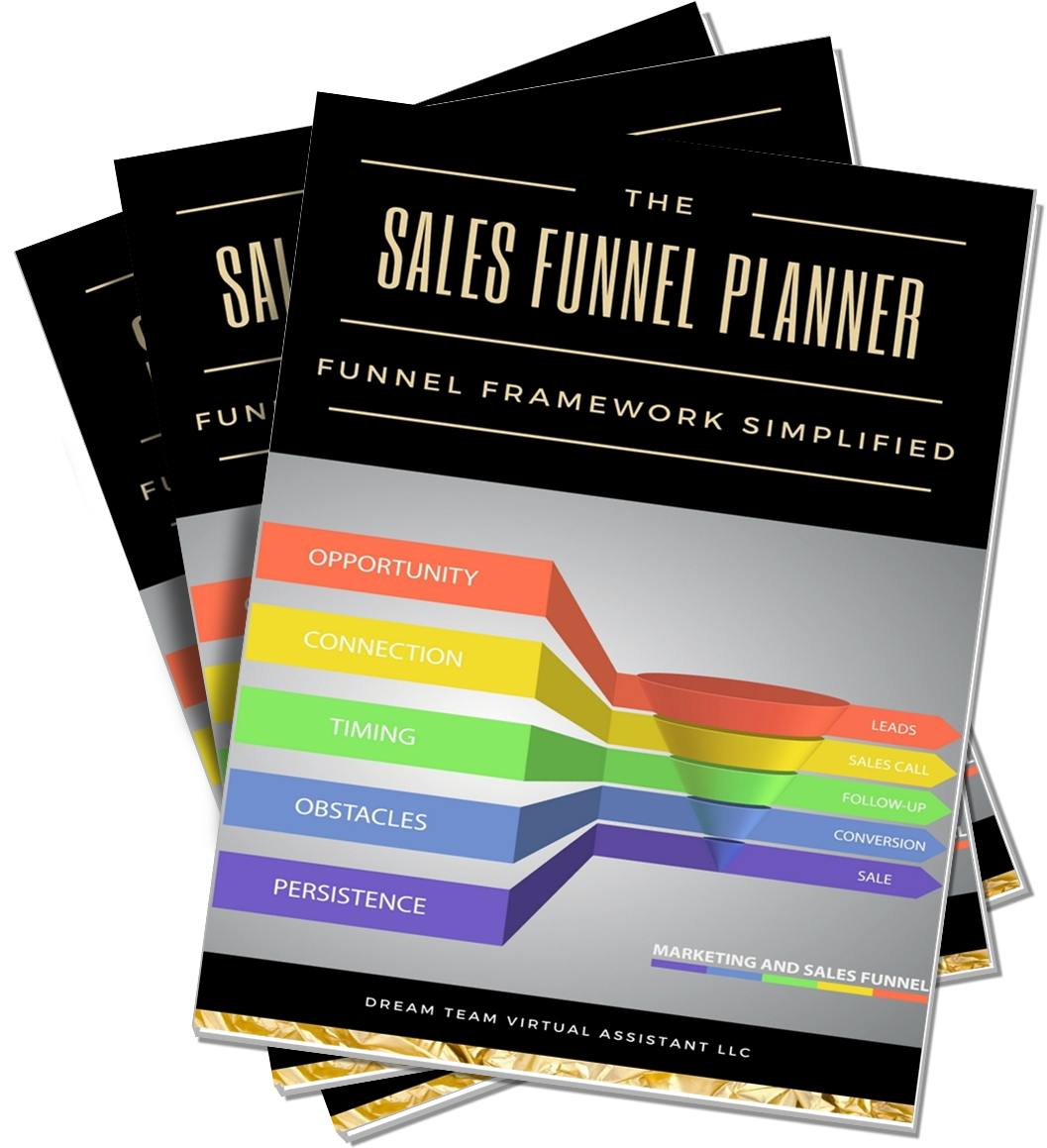 Our Sales Funnel Planner is perfect for:
Business Coaches,
Consultants,
Service Professionals,
Virtual Assistants,
Marketing Agents.
A
nd the list goes on...
9. LANDING PAGES
Every business needs to build their current email list, and landing pages are the best way to do that. Using Leadpages or any landing page, a Virtual Assistant can craft the perfect landing page that captures leads into your sales funnel to build your list. Lead generation is essential in our current fast-paced, short-attention-span world, and a VA can make it happen for you!
10. FACEBOOK ADS
Just about everyone's scrolling through Facebook for hours each day, and what better opportunity to capture new clients that by advertising on this popular platform? A Virtual Assistant Facebook Ad Pro knows how to easily and effectively advertise your business can really help you build your business with Facebook Ads.
11. VIDEO/AUDIO EDITING
A Virtual Assistant can also create a captivating intro to videos, edit audio, and podcasts for your audience to enjoy.This time-consuming task is best left to a VA when you're knee-deep in making your dreams come true.
12. EBOOK CREATION
Content-rich eBooks are an excellent way for you to make passive income or build your email list and a Virtual Assistant can help you with this. Give a copywriter VA your words and she or he will turn them into a potential best-seller. While creating an eBook may sound easy, there are technical elements involved that a VA can help you with.
13. OPT-IN & LEAD MAGNET CREATION
They say that "the money's in the list". When your ideal clients choose to receive emails from you, all the easier for you to make the sale. A Virtual Assistant can craft a savvy opt-in for you to use on your landing page, website or on your blog to build your email list. (Hook, line, and sinker)
14. POWERPOINT/KEYNOTE/SLIDES
Presentations are still relevant in the business world and A Virtual Assistant can assist in creating the perfect slides for you to use to keep your audience engaged, informed, and maybe even a little entertained for webinars or speaking events!
15. RESEARCH
Research is extremely time-consuming, but Virtual Assistants love to do it and can save you precious moments by taking over this tedious task for you.
Below we've added an infographic of "15 Marketing Tasks Your New Virtual Assistant Can Do to Drive Traffic to Your Business for 2019", please feel free to share it on your blog. We only ask that you link it back to our blog post.
If you are on the hunt for a great Virtual Assistant to help you marketing your business, schedule a consultation today!
If this will be your first time working with a VA, let me explain how a Virtual Assistant can help your business grow.
*Please note some of the links on this website may be affiliate links. Which means if you click on the link and purchase the item, we may receive an affiliate commission as their "thank you" for sending you their way.